When it comes to dessert kabobs, there are many delicious treats that you can use to make a fun and flavorful skewer. If you are planning to make our bunny charcuterie board but looking for other fun desserts on a stick this is it.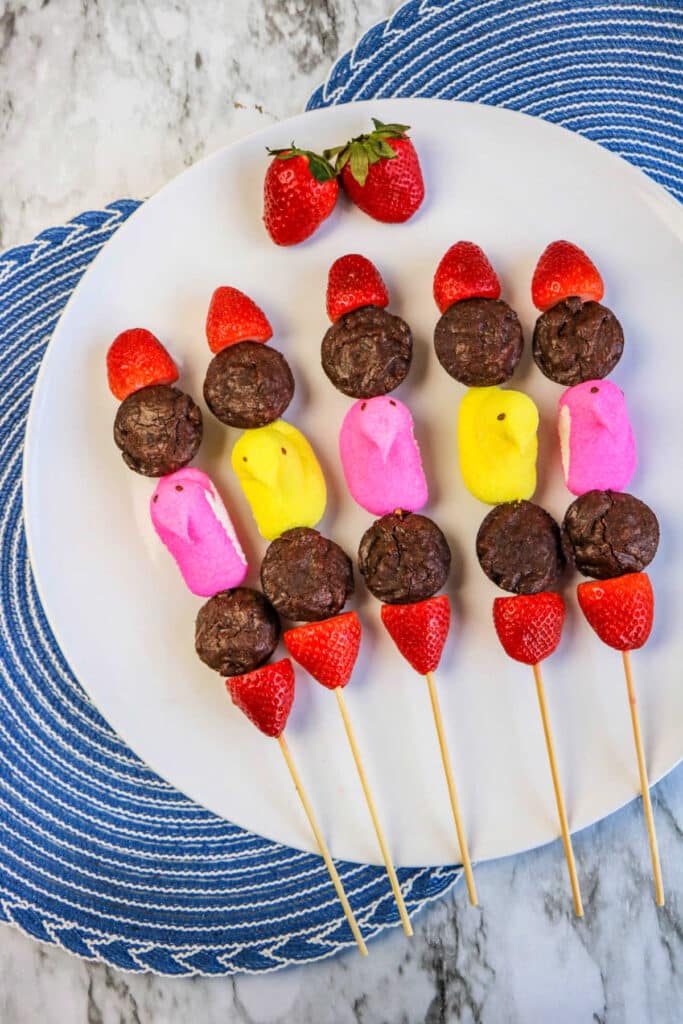 Dessert Skewers
Ok so there are SO many possibilities when it comes to these and what you put on them. Large marshmallows are kinda' the obvious one with fruit and a white chocolate drizzle. If you wanted a really quick creation I would just go with that. Bam, done. Just want fruit kabobs with rainbow colors, those are fun too but we are going to explain beyond that.
If you are busy baking a few dessert recipes for ramekins for your big get together but you want the kids to be involved, these are fun. No need to turn on the oven either because you can buy everything already done and they can just slide each item on, they will love it.
What to Put on a Dessert Kabob
Fruits: Fresh fruits like strawberries, blueberries, pineapple, kiwi, mango, and grapes are a popular choice for dessert kabobs. They add a natural sweetness and a burst of color to the kabobs.
Cake or Brownies: Bite size brownies or cubed strawberry shortcake cake pieces add a rich and decadent touch to the kabobs. You can use homemade or store bought cake or brownies, and even mix and match different flavors.

if baking one of these wait until it has cooled completely before slicing or adding to sticks.
our Oreo cake balls work well to thread on there too

Marshmallows: Soft and chewy marshmallows are a classic ingredient in dessert kabobs. They add a fun texture and a sweet flavor that pairs well with other ingredients. Makes a great Peeps recipe during Easter time.
Cookies: Cookies like chocolate chip, oatmeal, and snickerdoodles can also be used to make dessert kabobs. You can break them into bite-sized pieces or use mini cookies to make it easier to skewer.
Candy: Small candies like gummy bears, M&Ms, or Skittles can be used to add a pop of color and sweetness to the kabobs.
Nutella or Peanut Butter: Spreading Nutella or peanut butter on the fruits or cake before skewering adds a delicious and creamy layer of flavor to the kabobs.
If you dip into something set on parchment paper so they can harden a bit before laying on your tray. Remember to get creative and mix and match different ingredients to create your own unique dessert kabob creations!
How to Cut Fruit for Skewers
Cutting fruit for skewers is a fun and easy way to make a colorful and healthy snack or dessert. Here are some tips on how to cut fruit for skewers:
Wash the fruit: Before cutting, wash the fruit thoroughly to remove any dirt or residue.
Cut into bite-sized pieces: Cut the fruit into bite-sized pieces that are small enough to easily skewer. You can cut the fruit into cubes, slices, or wedges depending on the type of fruit and your preference.
Remove any pits or seeds: If the fruit has pits or seeds, such as cherries or peaches, remove them before cutting.
Choose a variety of colors: Choose a variety of colorful fruits to make the skewers look visually appealing. Some examples of colorful fruits include strawberries, blueberries, kiwi, pineapple, mango, and grapes.
Use a melon baller: If you want to add a fun touch to your skewers, use a melon baller to scoop out small balls of fruit. This works well with melons, such as watermelon or cantaloupe.
Skewer the fruit: Once you have cut the fruit into bite-sized pieces, skewer them onto wooden or metal skewers. Alternate the fruit to make the skewers look visually appealing.
Remember to have fun and experiment with different types of fruit to create your own unique skewer creations!
Banana Kabobs
Banana kabobs are a fun and easy dessert that is perfect for parties or a sweet snack. Here's a basic recipe to get you started:
Ingredients:
Bananas
Wooden skewers
Chocolate chips or melted chocolate are optional for dipping

if you use this allow them to cool to room temperature before transferring to serving dish.

Chopped nuts, rice krispies or sprinkles are optional too, sprinkle on when chocolate is still liquid to stick
Instructions:
Peel the bananas and cut them into bite-sized pieces.
Thread the banana pieces onto wooden skewers, leaving a little space between each piece.
If desired, melt chocolate chips in the microwave or using a double boiler. Drizzle the melted chocolate over the banana kabobs, or dip the banana pieces into the melted chocolate and then sprinkle with chopped nuts or sprinkles.
Place the banana kabobs on a plate or serving platter and chill in the fridge for about 15 minutes to set the chocolate.
You can also experiment with different toppings or dips for your banana kabobs, such as caramel sauce or peanut butter. The possibilities are endless, so have fun and get creative!
Time needed: 15 minutes
Marshmallow Kabobs
Bake

If you want to make your own bite size cake pieces or brownies so so first and then let them cool to room temperature. Then slice if necessary into cubes.

Cut Fruit

Choose which fruit you would like and cut into large bite size pieces. Bananas, strawberries, blueberries and apples work well.

Thread on to Skewer

Rotate between all of your ingredients, add one at a time until they are secure and won't fall off. Using large marshmallows will add a sweet filler too.

Drizzle

You can drizzle the outsides with melted chocolate or candy melts if desired.