Easy vanilla Greek yogurt recipes are here, and how to make plain into any flavor you want too. Healthy desserts with vanilla yogurt you can make at home and your kids can help.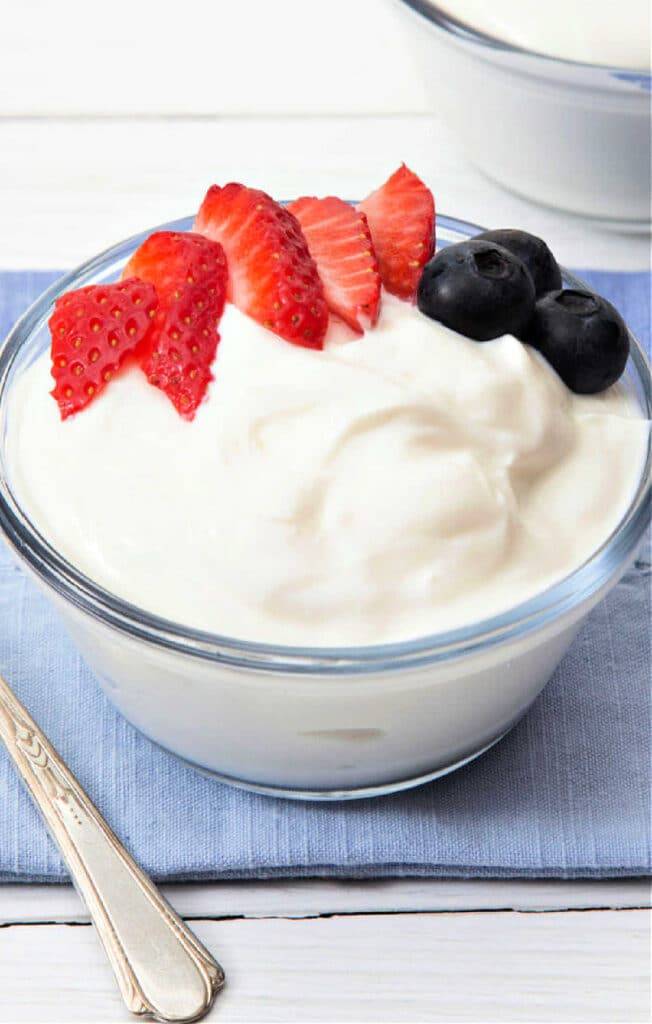 Greek yogurt recipes are easy to make. Whether you want a savory dip, or something sweet to enjoy during the summertime we have a few of our favorites. Made from scratch or using store bought they're probiotic treats and a great substitute for sour cream too. (affiliate links present)
How to Make Vanilla Greek Yogurt
If you can only find plain you can transition it to this or really any other flavor you want. There are tons of extracts out there so you could go for lemon, coconut, the list goes on and on. Vanilla is a delicious and healthy snack that is packed with protein and probiotics. Here's a simple recipe that calls for;
2 cups plain Greek yogurt

you can do this with regular yogurt too

1 tablespoon vanilla extract
2-3 tablespoons honey or maple syrup (agave nectar or no added sugar Sweet n Low liquids works for sweetness too)
If you don't have this at all and need to make it from scratch using milk, you can actually do that too. It does take quite a bit of time but worth it. You can follow instructions here on how that is done, then make into different flavors this way below.
In a mixing bowl, combine the ingredients together, add vanilla flavor until well combined and smooth.
Feel free to then taste and adjust the sweetness to your liking by adding more honey and vanilla or maple syrup.
Cover the bowl with plastic wrap and refrigerate for at least 30 minutes to allow the flavors to deepen.
Serve your vanilla bean yogurt in a large bowl as is for breakfast, or add your favorite toppings such as fresh fruit, granola, or nuts.
You can also adjust the consistency by adding a splash of milk or water to thin it out to your desired consistency.
Easy Greek Yogurt Recipes
Greek yogurt is a versatile ingredient that can be used in a variety of recipes. Here are some ideas for what you can make with it that are sweet. The great thing about this is kids will probably not even know that it is healthy, they'll just know it's sweet and delicious.
Fruit bar popsicles are our favorites by far. Using frozen strawberries and blueberries you can just blend together, freeze in a mold and enjoy during the summer months.
Yogurt parfaits are where you just layer vanilla or another flavor of this thicker than normal yogurt with other ingredients. The most common would be layers of sliced fruit, granola, and honey to make a healthy and delicious breakfast or snack.
Vanilla Greek Yogurt smoothie: All you do for this one is to blend a scoop of this with fresh or frozen fruit + some ice to make a creamy and filling drink.
A sweet salad dressing can be made with this too! You just whisk it together with poppyseeds, honey and dijon to make a creamy and flavorful salad dressing.

plain is more common for this as it is typically more savory in nature but for sweetness use vanilla

Fruit Dip: Mix together with herbs and spices to make a delicious and healthy dip for vegetables or pita chips.
Baked goods: I have used this all the time instead of sour cream or butter. That is right, use in recipes for muffins, cakes, and quick breads to make them healthier and more moist. Another great other plus is you can find it dairy free here and there if you are in need of a lactose free alternative ingredient.
Greek Yogurt vs Sour Cream
I mean both of these are both dairy products that have a tangy flavor and a creamy texture. They do have some differences, but can be used if you don't have enough of one or the other for baking purposes.
Yogurt is generally considered healthier than sour cream because it is higher in protein and lower in fat. A little less than a 1/2 cup serving of of the sweeter version contains around 10 grams of protein and 3.6 grams of fat. The same amount of sour cream contains around 2 grams of protein and 22 grams of fat.
Yogurt has a tangy and slightly sour taste, but it is also slightly sweet and creamy. The latter, on the other hand, is much tangier and has a richer flavor due to its higher fat content. Both can be used in cooking and baking in a 1:1 ratio but if you were to eat it inside of baked potatoes or tacos you'd typically want the sour version.
Savory Greek Yogurt Recipes
There are tons of dips you can make with this from sweet to dip fruit into or something to use with vegetables. Just think of it like sour cream, anything you would normally make with that you can substitute for this thick yoghurt.
Tzatziki with yogurt is probably our favorite because it is so versatile. You can make it with just a bit of sweetness with vanilla or plain yogurt for a more savory taste. If I make gyros it goes well with that meat with tomatoes and lettuce. Used with baby carrots and cut celery it makes a great dip that way too.
Love this and want to sign up for our free newsletter to get more in your inbox weekly???!! Please sign up here so it's easier to follow along with our creations.
If you loved this recipe please give us 5***** and let us know below!! We would love to share more by following our Pinterest account (we're on there a lot).